For workers up and down the country December means one thing. It's office Christmas party season. A chance to unwind and relax with colleagues and friends ahead of a well deserved break for Christmas. 
The annual office Christmas party holds a unique place in British culture, some love it, others dread it. But no matter which side of that fence you're on you can't escape the cocktail sausages, games, christmas decorations and (hopefully) great beers you get to enjoy with your peers.
When it comes to arranging an office Christmas party there's always loads of options on the table. Some people favour a night on the town, others prefer a relaxed meal at a restaurant whereas a lot of us quite like a traditional office party in the office.
It's great fun dressing up your workplace and giving your desk a Christmas makeover. You can hang up decorations and even buy a Christmas tree. Parties in the office also let you avoid the stress of organising a big night out and you can buy some drinks you actually like! 
In this article we're going to be sharing why we think a traditional office Christmas party is the best way for you and your colleagues to celebrate Christmas and we'll be looking at the good, the bad and the ugly of the classic office Christmas party. 
Are you planning your office Christmas party this year? Are you struggling to think of what refreshments to serve? If this sounds like you, Freedom Brewery is happy to assist. We're a 100% vegan brewery that puts great tasting beer at the heart of everything we do. 
Satisfy everyone in the office with our crisp craft lagers, floral organic helles, bittersweet pilsners and delicious pales.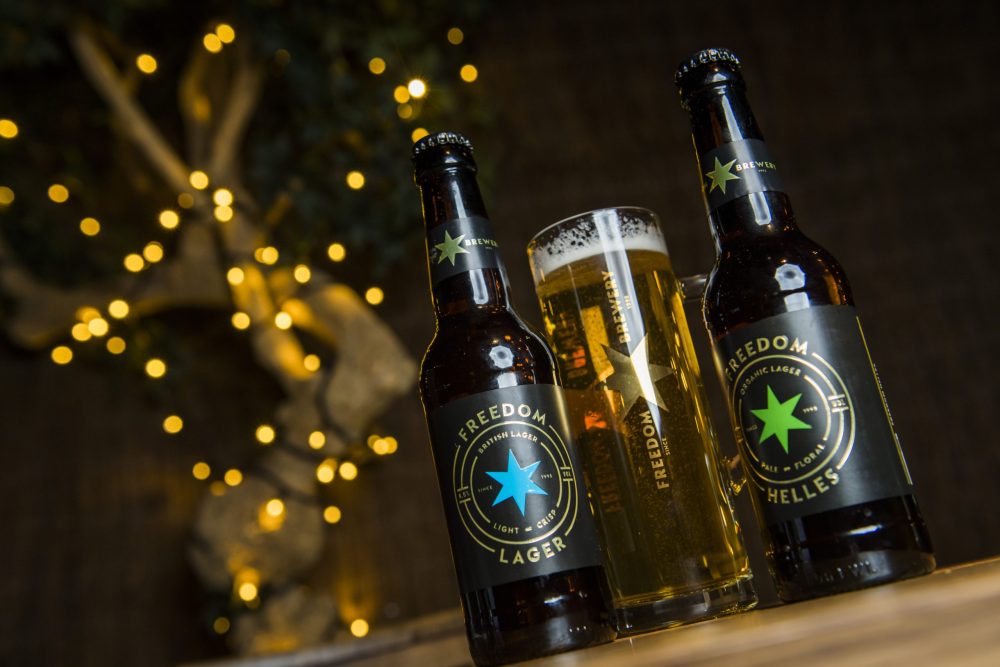 Why a party in the office is the best
Now, we might be slightly biased (our office is a brewery after all) but we think the best place you can celebrate your office Christmas party is in your own office. You might be thinking that's the cheap option but done correctly it can be the most lavish, stress free, relaxed and fun office christmas party you ever have. 
Throwing your Christmas party in the office lets you save a big wedge of your party budget to spend on food, drinks and games. If you're heading out for a meal or booking a venue, that can swallow up a lot of your money which means you have less to splash out on other, more important things (aka the organic lager).  
Having your Christmas party in the office also means you get to go to town on the decorations. This is a whole activity in itself and a well prepared office party planner can completely transform your workplace into a winter wonderland or Santa's grotto. 
Getting the whole office involved in the setup is also a great  team-building activity and an excuse to crack open a crate of craft pilsners early to celebrate successfully decorating the Christmas tree.  
Another benefit of an office based get together is that it's a very inclusive way to celebrate Christmas with your colleagues. December's a hectic month, everyone's got plans. Adding another expensive outing to people's calendars can cause a few headaches. That's not to mention travel considerations, childcare and buying Christmas presents. 
Keeping the Christmas celebrations in-house helps those employees who might be worried about an expensive restaurant, getting home after a few vegan helles or struggling with babysitting issues. A party in the office lets everyone unwind, relax and have a great time. 
And that brings us to the final reason we love an office Christmas party. You get to spend an evening with just you and your co-workers, no loud bars, no screaming tables, no busy waits for a drink. You can enjoy your evening with friends and have a few craft pales while you're at it. 
Having a party in the office is one of the best ways to really catch up and connect with your colleagues. You don't need to shout at them across the table of a noisy restaurant just to have a chat. You can order food in, put some music, buy some beers you actually like and just have a great time.    
The good, the bad and the ugly of the office Christmas party
The office Christmas party is a great occasion for catching up with colleagues, peers and friends. But it can also be responsible for some bad dancing and funny decisions. After a year of hard work it's the perfect opportunity to cut loose and have a good time but that enthusiasm should be kept in check otherwise the ugly side of the office Christmas party could rear its head!
In the next section of this article we'll take a light-hearted look at the good, the bad and the ugly of the office Christmas party.    
The good
It's the end of the year, it's a party, what isn't good about that. The office Christmas party is a time to make new friends, catch up with old ones and maybe meet that special someone (who's that under the mistletoe). You can enjoy some nice food, beer and friendship with the people in your company.
The bad
Bad dancing, dad dancing, table dancing. It might not be a wedding but that doesn't mean you can't put a tie around your head. Office Christmas parties are always a fertile playground for bad behaviour. Whether it's dancing to Michael Jackson's BAD album (badly), or thinking you're the office breakdancer, the Christmas party can bring out the worst behaviour in some people.
If you're witnessing some bad behaviour at the office party it's wise to have a Freedom beer in hand to help you get through the experience. If you fancy winning some free crates of Freedom beer you can enter our competition to get free crates of beer delivered directly to your office right in time for your party. Keep an eye out on our social media channels for more information.
The ugly 
Running out of beers and food is no one's idea of a good time at the office Christmas party. But it is the sign your party was a roaring success. Now this might not be what we consider "ugly" but it's the only thing we could think of that'd make attendees fed up at the office Christmas party. 
To get around this ugly issue it's a good idea to stock extra food and drinks. If you're partying in the office like we recommend you should have plenty to spend on the beverages. 
Do you need to get some drinks for your office Christmas party? 
If you need some beers for your office Christmas party we've got you covered at Freedom Brewery. Our 100% vegan beers can be delivered directly to your door and we have 4 delicious varieties to choose from. Check out our shop to see which organic beer takes your fancy. We also offer free shipping for orders over £48.