After the indulgence of Christmas and the New Year, lots of people like to use January as a mental and physical reset. New Year's resolutions are made, gym memberships are purchased and lots of people decide to do Dry January. 
The first month of the year is for getting back into your groove and kicking the New Year off with a healthy, positive attitude. As vegan beer brewers, we don't normally get into Dry January (can you believe it? crazy right!) but one January tradition we throw ourselves behind every year is Veganuary.  
Never heard of Veganuary? Well then this article is for you. In this blog we'll explain what Veganuary is, why you should care and, most importantly, how you can celebrate it with your friends and family.  
What is Veganuary? 
In a nut-shell Vegnaury is an annual challenge run by a nonprofit organisation, which is also called Veganuary, that's based in the UK. It aims to promote and educate people about veganism. The organisation does this by encouraging challenge participants to follow a vegan lifestyle for the month of January. Since its inception in 2014, participation in the challenge has doubled year-over-year. 
We are big supporters of Veganuary at Freedom Brewery. We believe in building a sustainable future for everyone. That's why our beers are 100% vegan and we've made them that way for 25 years. 
Veganuary shows us all how little adjustments to our everyday lives can have far reaching positive impacts on the environment and the world. That's a statement and a mission we can get behind and that's why we love to get involved in Veganuary every year. 
So, whether you're a veteran of Veganuary or somebody looking to go plant-based for the first time you'll find a wealth of information, activities and ideas to keep you occupied for all of Veganuary online. 
Below we've listed our favourite way to enjoy Veganuary with friends. You might even be able to tempt the meat loving carnivorous in your friendship circle to go plant based for a month with these ideas. 
How can you celebrate Veganuary with friends?
Although many people see Veganuary as a challenge we think it's better to view it as a celebration. It's a chance to enjoy everything plant-based, give yourself some time away from animal products and generally just eat, drink and do nice things with your friends. 
The possibilities for Veganuary are endless, so we've given you a few suggestions of things to do below. Hopefully you can use these as inspiration to come up with your own fun Veganuary activities.  
You can host a vegan beer tasting event
Who doesn't love drinking beer? This Veganuary, why not get your friends together and sample some amazing vegan craft beers. If you have any friends who might think vegan craft beers don't taste as good as non-vegan ones, maybe this little tasting session could change their minds. 
You can get loads of types of vegan beer. At Freedom Brewery, we produce four different kinds of 100% vegan craft beer. We have a lager, pilsner, helles and a pale. If you were thinking of doing a vegan beer tasting, one of our sampler boxes would be a great place to start. 
Not a big fan of beer? Why not try cider or wine instead. No matter your tipple of choice you'll be able to find plenty of vegan options out there to try in Veganuary.
You can go out and enjoy a Winter picnic
Winter, January and picnic are words you wouldn't expect to see together. But a winter picnic is a great way to enjoy the great outdoors and enjoy some sunlight in the cold winter months. Enjoying the great outdoors with some vegan beers and sandwiches can be an excellent way to break up the drudgery of January. 
This idea is best saved for the weekends when you can meet with friends in the middle of the day with no pressure from work and you can build a little campfire to accompany your picnic. 
Unlike summer picnics, it's best to prepare hot food at home ahead of your picnic and bring tin-foil wrapped sandwiches and other hot nibbles to your desired picnic location. Oh, and don't forget a few crates of vegan lager courtesy of Freedom Brewery.     
You can head to your local farmers market for some vegan produce
Nothing screams Winter like walking round a farmers market on a brisk January day. You can sample some vegan produce and head back home after a lovely afternoon out with your brain bursting with vegan recipe ideas to try with you friends.  
There might even be a few vegan beer stalls to try while you're there but if not, don't worry, we can cover all your craft vegan craft beers needs over on the Freedom online shop. 
You can warm your feet up by a roaring fire in your local pub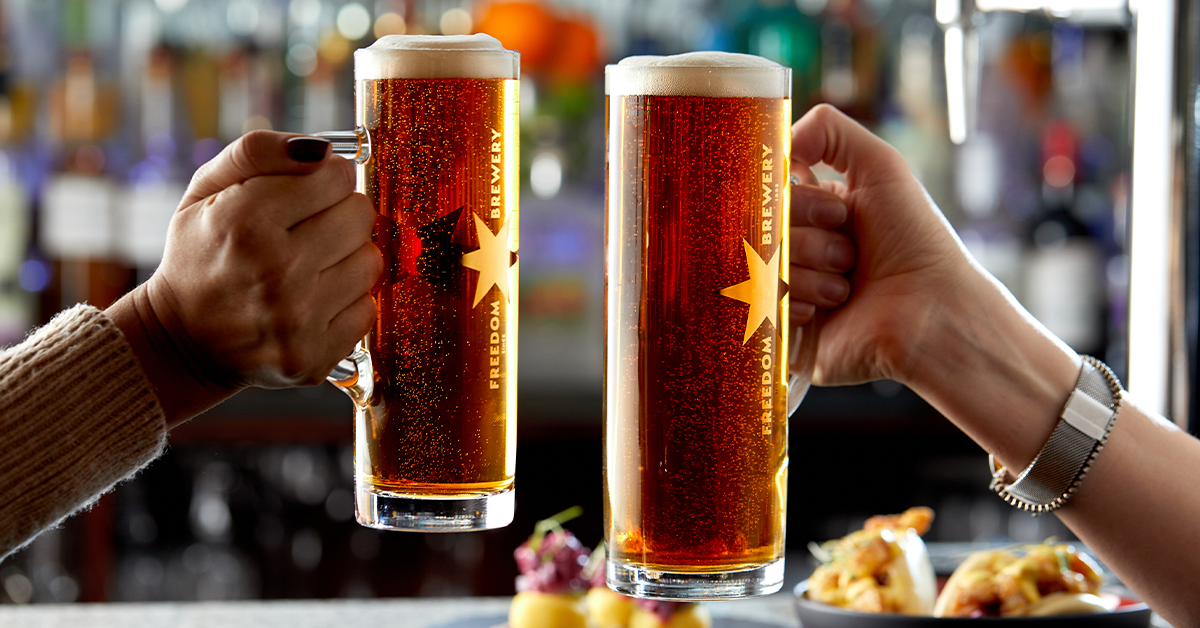 Nothing beats a good, proper British pub. The type of pub with a tiled floor and roaring fire. The type of place you can kick back and enjoy a beer with friends. More and more UK pubs are now catering to vegan customers too. Which means finding a pub to enjoy during Veganuary isn't hard at all. 
You could head to the pub for a vegan pint after a Winter picnic or a trip around a farmers market too. You might as well double up on activities in Veganuary.
Don't have any pubs nearby? Head over to our online store and grab a crate or organic lager, vegan pale, craft pilsner or delicious helles to get that Veganuary beer fix. 
Do you need some craft beers for your Veganuary celebrations?
If you and your friends are planning to do Veganuary make sure you keep stocked up on all the essentials. If you need a place where you can buy vegan beer without the hassle of checking every label for animal products then head over to our online shop. We only brew vegan beers so you can get delicious tasting, cruelty free beer delivered directly to your door.