Founded in 1995, the Freedom Brewery brand has seen a lot of changes (us marketeers like to put our stamp on things, soz!). But one thing has stuck around all this time… our iconic star!
You'll have noticed a lot of breweries have a star icon in their logo, with very different meanings…
• Heineken – 5-point star symbolises the four ingredients in beer, plus a fifth element which comprises the 'magic of brewing'
• Estrella Damm – "Estrella" means "star" in both Spanish and Catalan, while "Damm" refers to the original brewery
• Lone Star – pays tribute to the Lone Star flag, which was adopted after Texas became independent from Mexico in 1836
• Stella Artois – "Stella" means "star" in Latin, while "Artois" references their original brewmaster
• Newcastle Brown Ale – the five points of the star represent the five founding breweries of Newcastle
But ours is different. All of the above have 5-point stars, while ours is 6-point (for a very good reason)…
Firstly, we need to dip into the history book (bear with us!):
With over 500 years of history, the Zoigl star was adopted as an international guild emblem of brewers. This star incorporated the three ingredients for making beer – grain, hops and water alongside the elements needed in the brewing process – fire, air and water.
With the later addition of yeast in the brewing process, water was replaced in the ingredient triangle, taking the place of earth on the other.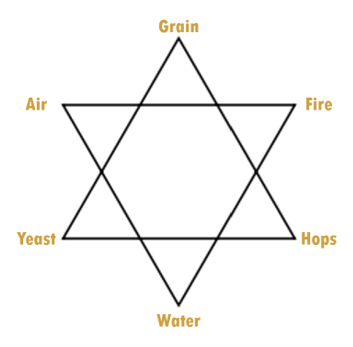 The star is generally seen to symbolise the link to a rich brewing heritage, and could be seen on the exterior of many brewhouses as a prominent symbol of purity, and brewers who identify their occupation, brewery and brand as a message to their customer: we brew quality beer!
Fun fact! Historically, as many customers were illiterate, breweries would display either a white or red star on their exterior to communicate whether they had light or dark beers available…
With our pioneering approach to brewing quality craft lager, we incorporated the 6-point star into our logo, which has been iconic to our brand since 1995, and with the rapid growth of craft lager, is more important today than ever…
The Freedom Star represents quality, heritage and, most importantly, balance. All of the elements needed for an authentically craft, quality and balanced beer…
Elements and ingredients coming together in perfect harmony is exactly what Freedom is all about! Using only the best natural ingredients, our beers are naturally carbonated and sterile filtered, balanced for maximum flavour and refreshment. No gimmicks, no compromise.
The perfect balance.