Big Feastival is happening THIS MONTH and we are SO excited!
The Freedom Sessions stage will be live at Big Feastival this August Bank Holiday weekend.
Freedom Sessions biggest stage to date, will have over 10 acts performing over the weekend and what a great line-up we have.
Our callout for musicians across the country as well as to those we have worked with before drew in some fantastic artists and we are excited to announce that our line up for Big Feastival has been confirmed and here's who will be performing: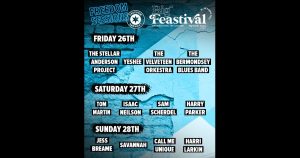 The Stellar Anderson Project
North Leeds based alternative rock band with a twist 🤘
Check out their album 'Breathe' here
Yeshee
Yeshee is a recording artist from Brighton. Her main styles are Hip Hop, Trap, RnB, Dancehall, & Drill. Yeshee uses her live mixing skills as a DJ when she is performing as a rapper by hosting her own sets. 🎧
Check out her music here
 The Velveteen Orkestra
The Velveteen Orkestra are a ragged-trousered rock and roll orchestra. Embodying the essences of European folk and bluegrass as well as echoing the guitar-based indie stylings of The Smiths and Radiohead
Check out their music here
The Bermondsey Blues Band 🔷
The Bermondsey Blues Band have a vision to bring the beauty of blues music to the heart of Bermondsey and beyond. Covering a wide range of blues standards that will be sure to comfort the soul and bring a smile to any listener
Check out their music here
Tom Martin
A live musician, singer and guitarist from Bristol. Tom claims he's the only acoustic covers singer who doesn't do Ed Sheeran 🤷
You can listen to Tom here
Isaac Nielson
Singer, Songwriter Isaac Nielson is a Buxton – based alternative rock artist, who recently took the plunge to be an artist in his own right and go solo 👌
Check him out here 
Sam Scherdel
Energetic, & soulful songwriter, Sam Scherdel has been penning music since his early teens. 🎶 His music is never too far strayed from the 'Britpop' resonances that were the background of his youth.
Listen to Sam here
Jess Breame
Singer-songwriter based near Nottingham, Jess brings together a blend of country, Americana and modern indie. Her music influences range from Classic Country to Southern Rock & British Pop Acts 🤠
You can hear her music here
Savannah
Dawley based band, 🤘 Savannah will be bringing mind melting, body moving Psychedelic Rock and Funky Grooves to the Freedom Stage
See them here
Call Me Unique
Singer, Songwriter, Guitarist, 🎸 Call Me Unique infuses the sound of jazz, soul, future-beats and scat-singing. Renowned for her love of scatting & eclectic performance approach, her vibe is truly 'Unique'.
See and hear more from Call Me Unique here
Harri Larkin
Harri Larkin are an Indie funk trio based in Sheffield. They are well regarded in the scene for their high energy performances and infectious sound. 🎉
Hear their sound here
The countdown is on to Big Feastival, will you be there?