If you're the type of runner that likes to take it to the extreme, then wild trail running is the sport for you. Not only do you get a really good workout (those hilly inclines are no joke) but you'll also get to take in some of the UK's lovely scenery and get lost in the wonders of nature.  
If you're not a runner, don't fret, this article is still for you. Every run can also be a walk and the trails we're going to suggest in this article can be hiked as well as jogged.
Trail running will take your exercise to the next level, there's nothing quite like summiting a hill after a brisk jog to get to the top. With the fresh air in your lungs, sun on your face and 360 degree view all around you'll truly feel like you're on top of the world. 
And we think the best way to celebrate a successful wild run is with a Freedom beer. Maybe not right after your run, you can have a shower first! But keeping a few in the fridge to toast beating your personal best or hitting a new distance milestone is a great idea.
If you're planning on ending your run at the top of a hill or mountain don't forget to pack some celebratory running beers too. A cheers with friends at the top is often all the motivation you need when running up a hill or along a muddy trail. 
Below we've listed our top 5 wild running trails in the UK. We've aimed to hit all corners of the UK so no matter where you're based you won't be far from a wild trail running route you can enjoy whenever you want. 
Loughrigg Fell, Lake District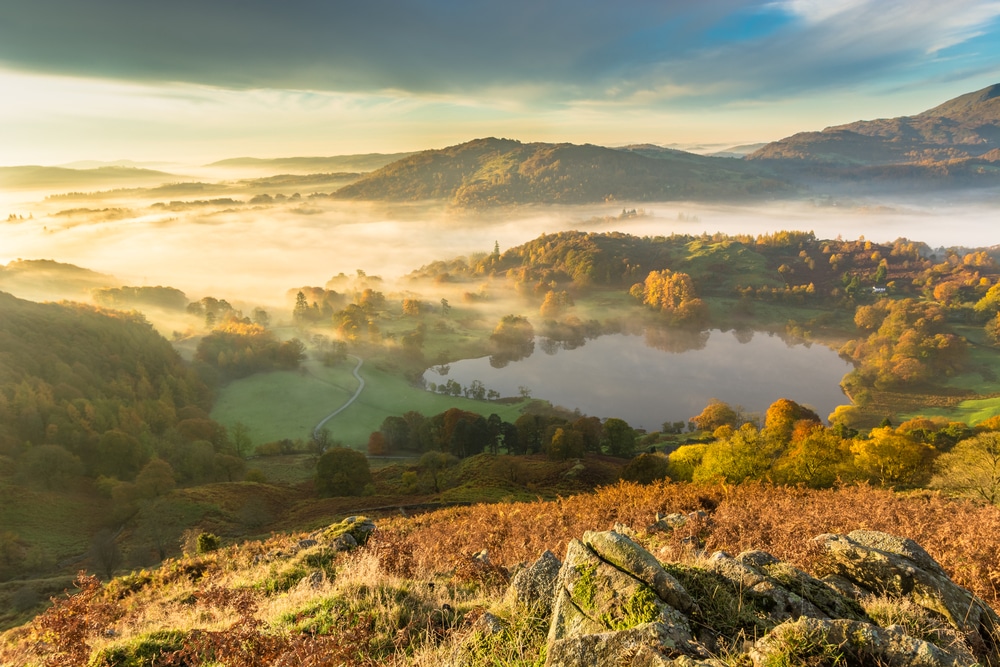 Loughrigg Fell is part of the Great Langdale area of the Lake District and is by all accounts a runner's paradise. It's surrounded by beautiful peaks and mountains yet also offers lower level running trails for those not interested in scaling a mountain before 9am!
The area offers routes for all abilities and the Loughrigg Fell route climbs just over 300 metres (335m to be exact) which puts it on the easier end of Lake District fell running routes. 
The fell's stepped terraces and well-maintained trail make it a lovely running route, by the end of it you'll be surprised you've run 10km as you'll be too caught up in the amazing scenery to notice the distance you've just covered. 
Noss Mayo and Newton Ferrers, Devon
If you're looking for a longer running trail that lets you take in the best Devon has to offer, then the Noss Mayo and Newton Ferrers running trail is the one for you. This 10 mile (16km) run gives you great coastal views as you run on the soft springy grass of the Revelstoke Drive, a 19th century carriageway.
The trail is named after the twin villages of Noss Mayo and Newton Ferrers and the running route starts and ends in Noss Mayo but lets you take in lots of picturesque villages during your run. 
Coed-y-Brenin, Snowdonia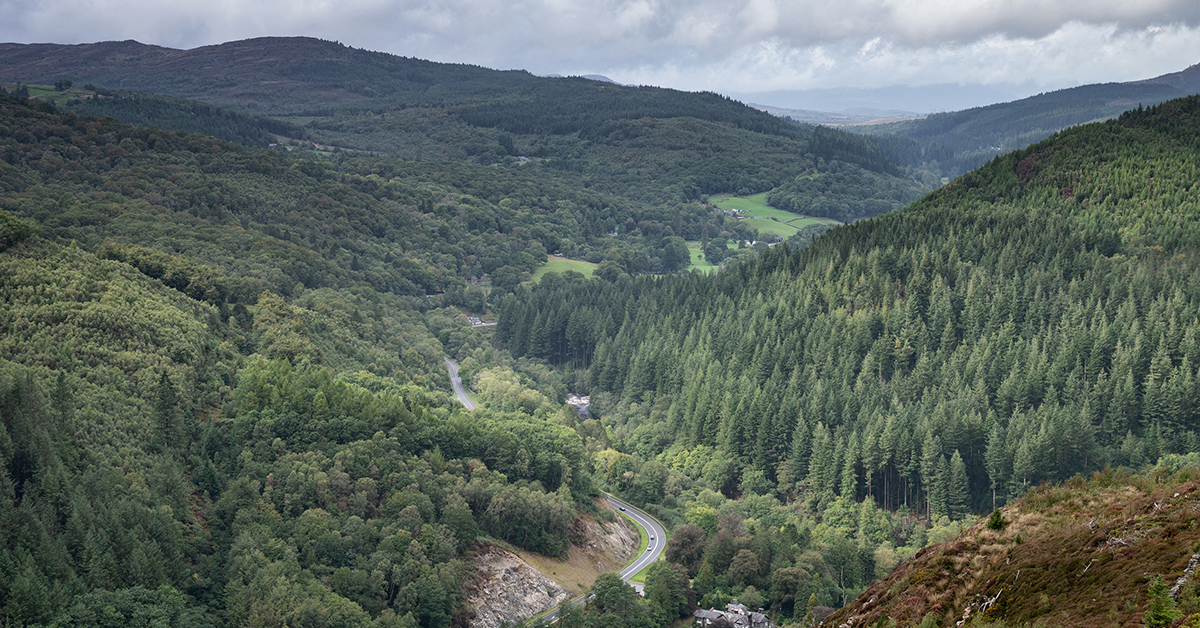 If you're looking for a running trail that takes you through the rugged wilderness of North Wales then Coed-y-Brenin is the location for you. With trails ranging from a few miles all the way up to a half-marathon (you can see all the routes here) the area can cater for everyone from beginner to intermediate runners. 
Run Coed-y-Brenin is hidden within the wooded hills of Snowdonia and is the UKs first dedicated trail running centre. They hold a number of running events throughout the year and this makes the area a must visit for any keen wild trail runners. 
Frensham Common, Surrey Hills
The last run on our list lies within 900 acres of wildlife-rich heath and woodland on the Western Edge of the Surrey Hills Area of Outstanding Natural Beauty. Frensham Common, home to the Great Pond and Little Pond is now owned by the National Trust. It still welcomes trail runners and walkers though especially those living in London as the common is easily commutable from the capital. 
Loch an Eilein, Cairngorms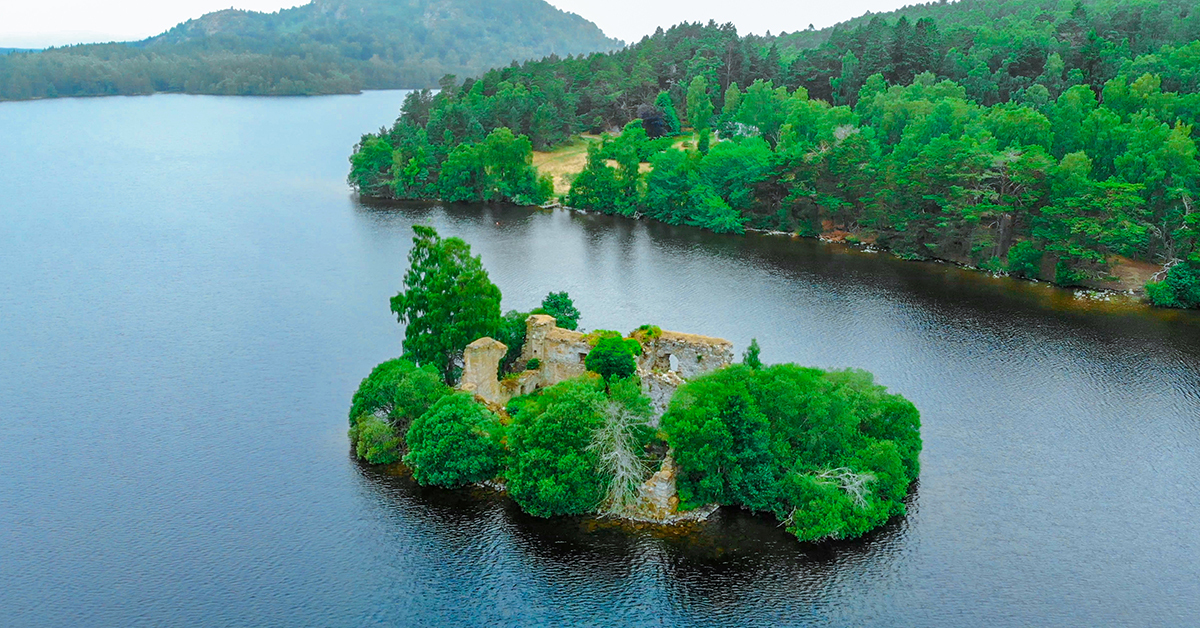 This 5 mile (7km) route is nestled within the ancient Caledonian pine forests of Rothiemurchus. Loch an Eilein is a loch located in Rothiemurchus and this running trail hugs its shore for most of the route. Positioned at the foothills of the Cairngorms the combination of loch side running and rugged mountain scenery (along with the ancient castles) make it a wonderful run. 
Where will your first running adventure take you?
Wherever you're planning to go on your first wild trail run make sure you're fully stocked with Freedom beer so you can toast your successes when you get home. You can purchase our Lager, Helles, Pilsner and Pale from our online shop or sign up to our subscription club so you'll always be stocked with delicious, 100% vegan Freedom beer.